When Kowsalya met Divya: Coming together of 2 women who remind us of the ugliness of caste
They would have been ordinary girls leading invisible lives in their little-known villages, if only the ugly hand of caste had not intervened to change the course of their fates. One was forced to crawl into a shell after her husband allegedly committed suicide, and another powerfully transformed herself into a champion of caste annihilation after her husband was brutally murdered by her parents.
Their paths never crossed. Their lives were never meant to be intertwined. But there was one thing Divya and Kowsalya deeply shared. Both Ilavarasan, Divya's husband, and Shankar, Kowsalya's husband, were victims of deeply entrenched caste hegemonies in Tamil Nadu and the violence which result from it. And on April 14, Ambedkar Jayanthi, Divya and Kowsalya met each other.
The love-affair of Divya and Ilavarasan could have been just that, if only caste was not involved in it. When I met her just before the Lok Sabha elections in 2014, Ilavarasan's mother told me it was not the first inter-caste marriage in their part of the village. But with caste casting its dark shadow over an innocuous love affair, the Ilavarasan-Divya saga led to widespread violence against Dalits in Natham Colony at Dharmapuri in November 2012, and sordidly ended with Ilavarasan's unnatural death in July 2013.  Despite the police closing the case as suicide, activists have picked holes in the police theory to establish a possible murder angle.
Much later, almost after three years, Tamil Nadu woke up to another gruesome honor killing of Dalit youth Shankar in full public view on a busy road at Udumalpet. He was killed for marrying Kowsalya, again from another dominant caste. Recorded in a CCTV camera, the killing sent shivers down the spine of Tamil Nadu.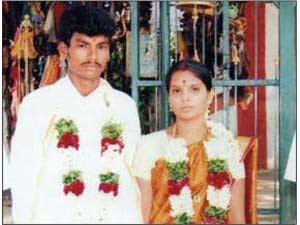 While Divya, whose saga had more political undertones than that meets the eye, is leading a life of seclusion with her mother in Dharmapuri, Kowsalya chose to work against what killed her husband – caste.
"It was coincidental that I met her on April 14," says Kowsalya, after meeting Divya, "I have been planning to meet her for long but friends kept dissuading me. They told me Divya was not meeting anyone. But yesterday, I was here and thought I will try. Along with two friends, I went to Divya's house. Divya was sitting on a bed and the moment she saw us, she began crying."
In an emotional yet powerful Facebook post after her meeting, Kowsalya narrates how Divya has remained a victim of circumstances. "My respect for her grew after the meeting. She does go to college and come back, but otherwise she still cannot step out of her home. Even if Divya sports a simple bindi and steps out, there are people who taunt her for forgetting the past. I couldn't converse with her for long, her mother was around. But when I could, I asked how she was coping with it. "How can I so easily forget someone with whom I was so deeply in love with?" Divya asked me back. If she had to fight, she has to only with the walls in her house. She has no space to fight," Kowsalya writes.
Many responses to her post speak about how the meeting and Kowsalya's post on it had changed their impression of Divya.
"Divya's mother kept insisting that her daughter was happy – that they did not want people to come only because they kept talking about the past. We actually did not want to speak about the past. All I wanted to was to meet her and speak to her. I really want to keep meeting her as often as possible so I hardly spoke about the past. Only when we were leaving, I told her my own story. Divya was not aware of it," Kowsalya says.
For many, the meeting will hopefully strengthen the much-needed anti-caste narrative in the state. A particular response to Kowsalya's FB post said the meeting will 'unnerve the castiests in Tamil Nadu.' Kowsalya hopes it does just that and much more.
KAVITHA MURALIDHARAN 
Courtesy: thenewsminute.com