What explains a senior AIADMK minister inaugurating an RSS event?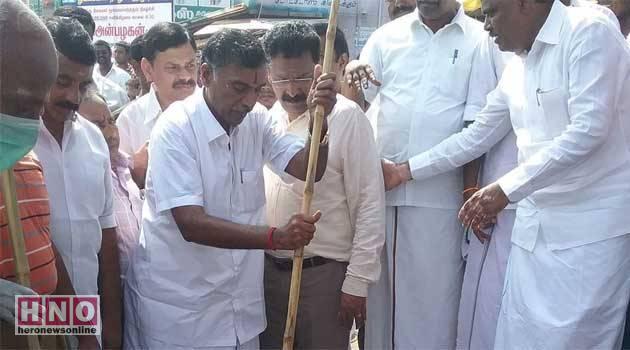 Ever since the faction wars began in the All India Anna Dravida Munnetra Kazhagam in Tamil Nadu following the death of former Chief Minister Jayalalithaa in December last year, there have been allegations that the Bharatiya Janata Party could be supporting the O Panneerselvam faction from behind the scenes.
This allegation was consistently made by those in the VK Sasikala and Chief Minister E Palaniswamy's camps. In fact, leaders like Nanjil Sampath alleged that the criminal cases against AIADMK deputy general secretary TTV Dinakaran, who is currently in jail on charges of trying to bribe the Election Commission to retain the disputed "two leaves" symbol of the party, was the handiwork of the Centre to strengthen Panneerselvam's hand.
It seems now the Palaniswamy faction has decided that the best way to counter the BJP's moves would be to warm up to its ideological mentor, the Rashtriya Swayamsevak Sangh.
In what has raised eyebrows in the AIADMK, a senior minister of the Palaniswamy government, KP Anbazhagan, on Saturday inaugurated activities related to an RSS training camp in Dharmapuri. He flagged off a RSS clean-up drive of the Dharmapuri bus stand.
The RSS conducts training camps across the country in the month of May. The photos of the minister inaugurating the clean-up drive was put up prominently on the Facebook page of Vishwa Samvad Kendra, an RSS affiliated organisation.
An AIADMK official in the Palaniswamy camp said the higher education minister's participation could not have happened without the knowledge of the chief minister. "If the RSS is ready to associate itself with us to do good to the people, what is wrong? This is not a political alliance. He just inaugurated a clean-up drive," the official said.
But Anbazhagan did not stop with inaugurating the event. He also praised the RSS for its public-spirited works and urged the people to participate in the activities. This marks a clear departure from the time when Jayalalithaa was alive.
A senior BJP leader, expressing surprise, said in the past AIADMK leaders would take part in local RSS events secretly. "In my experience, this is the first time a minister is openly inaugurating an RSS event," he said.
Political observers in Tamil Nadu had been pointing out that the very reason for Palaniswamy to push out the party's acting general secretary VK Sasikala's nephew TTV Dinakaran and his family was to put an end to aggressive moves made by central investigating agencies against his ministers.
The AIADMK official added that there was a feeling that unless Dinakaran and Sasikala were sidelined, the Centre may keep pursuing cases against partymen. However, BJP leaders such as H Raja have consistently denied such claims and had said there was no covert support being offered to Panneerselvam.
SRUTHISAGAR YAMUNAN
Courtesy: Scroll.in