The midnight coup: Sasikala's banished husband returns to shock AIADMK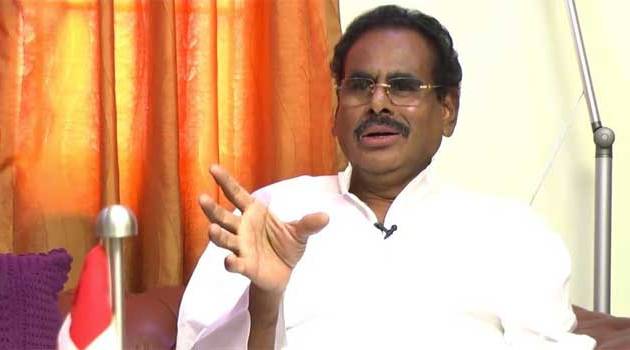 Many All India Anna Dravida Munnetra Kazhagam leaders and cadres are in a state of shock.
On Tuesday, as the funeral of their leader and former chief minister Jayalalithaa was underway, standing in one corner and attracting the attention of national leaders, including Prime Minister Narendra Modi and Congress vice president Rahul Gandhi, was a man who they had written off years ago.
M Natarajan, the husband of Jayalalithaa's close aide Sasikala, has made a quiet comeback. Out of sight for years and even imprisoned by Jayalalithaa's government in 2012, the wily former government public relations officer has returned at a time when the party is on the cusp of a dramatic change following the loss of its iconic leader.
Just minutes after the funeral, he even began giving television interviews, carefully constructing an image that he would be an important cog in the transition wheel that has begun turning in the AIADMK.
Within the ruling party, there seems to be confusion. Senior leaders who spoke to Scroll.in rejected the idea that he has returned to Jayalalithaa's home at Chennai's Poes Garden and by extension to the party. But it was very clear that none apart from a select few know what is transpiring in the inner corridors of the party.
Controversial character
Natarajan's political career began in the Dravida Munnetra Kazhagam. Though no historian ever mentions him as an important figure in the DMK, he nevertheless took disproportionate credit for his role in the anti-Hindi agitation of the 1960s.
In an autobiographical account titled Nenjam Sumakkum Ninaivugal (The Memories I Carry) that he wrote in one of the two Tamil magazines he ran, Natarajan placed himself at the forefront of the language agitations as a student leader in the '60s.
It was DMK president M Karunanidhi, as chief minister in the early 1970s, who gave him a job in the state administration. In 1973, Natarajan married Sasikala at a ceremony attended by Karunanidhi.
In several interviews given over the years, Natarajan has positioned himself as the political advisor of Jayalalithaa who later fell out of favour. In particular, he seemed to have been in close contact with Jayalalithaa in the late '80s, by which time Sasikala had become the former chief minister's aide. Sasikala was introduced to Jayalalithaa by an Indian Administrative Service officer.
In 1989, Natarajan was accused of taking bribes to distribute election tickets to AIADMK candidates. When his house was raided by the DMK government in the same year, a resignation letter purportedly written by Jayalalithaa, wanting to give up her post as a legislator, was recovered. The government chose to leak the letter to the media. This ended in a privilege motion in the Tamil Nadu Assembly in March 1989, during which Jayalalithaa was physically assaulted.
In 2012, Natarajan was arrested on charges of land grabbing. A person who harboured Tamil nationalist feelings, Natarajan wanted to build a memorial in Thanjavur for the victims of the Mullivaikal tragedy that had taken place at the end of the Sri Lankan civil war in 2009. Jayalalithaa had also openly asked her party members not to have truck with Sasikala's husband. In fact, Sasikala herself was removed from her place at Poes Garden in 2011, only to return after a few months.
Natarajan never hid his opinion about Jayalalithaa. In an interview to NDTV in 2014, he said it was not Jayalalithaa but he who chose to break contact. While he did try to protect the leader's image with regard to the disproportionate assets case by claiming that much of the wealth belonged to Sasikala and her family, it was clear that he was desperately trying to project the estrangement as temporary, and that he was more important than people assumed. He even said that once the disproportionate assets case pending before the Supreme Court, in which Sasikala is a co-accused, gets over, his wife would return to him.
Despite Jayalalithaa's dictates, there was a view that some AIADMK leaders did keep in touch with Natarajan, given the fact that their leader was prone to reversing her decisions without any notice. Sasikala was taken back into Poes Garden twice – first in 1996 and then in 2012.
Funeral scene
It was in this context that what transpired at Jayalalithaa's funeral was significant. Other leaders, including Modi and Rahul Gandhi, were introduced by the party to Natarajan.
In the final moments when constitutional authorities and important leaders paid their respects to Jayalalithaa's remains, Tamil Nadu Congress president Su Thirunavikkarasu, who was once an important member of the AIADMK, handed Natarajan a bunch of flowers to pay tribute. All through the funeral, Natarajan was seen sitting near Gandhi.
When asked about his reemergence, AIADMK officials were cautious. There was a view that Natarajan may have come to the funeral on his own. Given that he was Sasikala's husband, no one questioned him.
Natarajan is considered a domineering figure who likes to impose his opinion. An AIADMK Member of Parliament, on condition of anonymity, said that they did not see Natarajan at Apollo Hospital when Jayalalithaa was undergoing treatment. Also, there have been differences between Natarajan and other members of Sasikala family in the past.
But if Sasikala knew about her husband's presence, it raised the question of whether she had been in touch with him all along despite Jayalalithaa's dislike for Natarajan.
In a television interview on Tuesday, Natarajan even credited Jayalalithaa's arch rival Karunanidhi as being one of the leaders who laid the foundation of the Dravidian movement.
Another MP said questions were bound to be raised if the family tries to take over the party since many senior leaders knew what Jayalalithaa thought about some of them.
The general council of the AIADMK is set to meet before December 31 when it will elect the new general secretary, the party's top post.
SRUTHISAGAR YAMUNAN
Courtesy: scroll.in