Two Broken Marriages, A Domestic Abuse Case, A Son Caught In Between… Om Puri Had A Turbulent Personal Life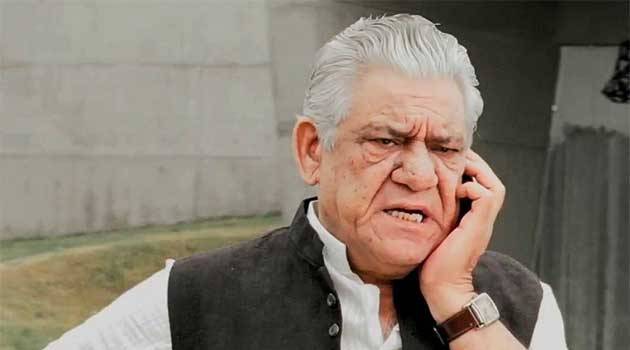 Early morning today, the world woke up to the sudden death of one of Hindi cinema's finest actors — Om Puri.
The veteran actor was 66 but age had hardly deterred him from taking up film projects. He had just finished filming Gurinder Chadha's Viceroy's House and was currently shooting for Kabir Khan's Tubelight, both major productions.
Colleagues remember him as a jolly fellow who was always up for some lighthearted banter and was relentlessly prolific.
While Puri's professional colleagues remember him fondly, his personal life was fraught with several controversies, some rather unsavoury.
Puri married Seema Kapoor, actor Annu Kapoor's sister, in 1993 but their marriage lasted for less than a year.
According to an interview given by Seema to Mumbai Mirror, within the first few months of their marriage, Om cheated on her with Nandita, a journalist who he'd go on to marry. The incident left Seema deeply traumatized.
She said in the interview, "Nandita stormed into Om's life when our marriage was just about a year old. She had met him in Kolkata for an interview, and the next thing I knew was that she was staying with him in his hotel room. Initially, I thought it was a fling. But I was wrong. It did not fizzle out. In my absence, Nandita used to drop in and stay with Om."
She added, "I found her letters and I even found her undergarments in Om's cupboard. At one point, I was so disturbed that I went away to stay with my mother. I was pregnant and I didn't want all this to have an effect on my child. But, I was so traumatized that I eventually lost the baby."
However, Om recollected the incident differently. He never said that his affair with Nandita led to his divorce with Seema. In an interview to Filmfare as referenced here, he had said, "She was 10 years younger to me. She was not outspoken, she couldn't convey what she felt uncomfortable about. A misunderstanding developed. It was unfortunate that we separated."
She said in an interview that even though people were interested in her, after being betrayed by her husband, she had lost all faith in relationships.
Seema's brother, senior actor Annu Kapoor, was deeply disturbed with the way things panned out between his sister and Om. In an interview with Bombay Times, he said, "Just because someone is a good artist does not make him a good human being. An actor lives in the world of make believe but the definition of a good human being is different."
He added, "My sister was tortured and victimized, but we did not go public even after she got divorced. There was no other alternative left for her except to let people know what really happened. If someone starts hurling abuses and maligning other family members, then it is time to lash out."
After the couple's divorce, Om married Nandita in 1993. The two then had a son, Ishaan, who is 19.
The marriage was extremely volatile and as Om recalled in an interview, the couple had several differences that got progressively worse.
However, all hell broke loose in November 2009 and Om's life was to change forever after the publication of his biography, Om Puri: An Unlikely Hero. The book was authored by Nandita and contained sensational details of Om's many sexual escapades, including one where he had sex with his maid at the age of 14.
His first wife Seema dubbed the book semi-porn, saying, "It is a semi-porn book, which failed to take off. Om is not a hero. Who is interested in the bedroom life of a character artiste? Om had asked his friend Aparajita to pen the book, but Nandita went hysterical and snatched the project from her."
Om, who was in Chandigarh shooting for a film when the book released, was furious as Nandita hadn't run the manuscript by him, assuring him that there's nothing in the book for him to 'worry' about.
Speaking to The Times of India, Om said, "I heard Nandita speaking about the biography she has written on me. I was shocked by her revelations. It was so cheap. She was talking about my sexual encounters as though those were my biggest achievements!"
Om was so furious at Nandita that he said he'll never forgive for what she did, repeatedly asserting that the maids he had sex with were instrumental to his life, who deserved to be treated with dignity. He said:
"My wife has reduced a very important and sacred part of my life to cheap and lurid gossip. I had shared these dark secrets with my wife as all husbands do. If she chose to make them public at least she should've made sure to maintain a dignity about experiences that are a valuable part of my life. Has she forgotten that I have a standing in society and I've worked hard to achieve all that I have today? I won't allow her to throw it all away for the sake of sensationalism."
The book changed the couple's life irrevocably and they were never able to bridge those differences. Nandita defended her decision of including details of Om's sex life in the book by saying, "The book is about Om, the man and the actor. Om has all the human foibles, just like all of us. He had sex as an adolescent with his maid and then he had a long liaison with the other lady who was also a maid. This was his way of coming out of his other relationships and demolishing class differences. If Om has any objection to her being called a maid he's just being unrealistic."
In February 2010, a report in Mumbai Mirror said the couple was headed for a divorce. In a subsequent interview, Om was quoted as saying, "I want to spend my old age with Seemaji. I've done her wrong in the past. I need to make amends. And after my back surgery I need to be looked after. Personally, I've been going through a painful period. Career-wise too, I'm not happy with the roles coming my way. If this continues, I'll leave Mumbai and live a life of anonymity in any small town. But I'd think about this only after Ishaan is 18."
Things took a drastic turn when in August 2013, Nandita filed a case of domestic violence against Om at the Versova police station.
A Times of India report says:
Om was like a man possessed, as he lunged at his wife and hurled brass and bamboo artifacts from the drawing room at her. One of these hit her on the right elbow. In addition to threatening to kill her, Om beat up his wife and pushed her against the wall, even as their son, his tuition teacher, Nandita's mother, and their domestic help appeared helpless in the face of Om's impotent rage.
Om denied all the charges and called Nandita's claims to be lies.
In a PTI interview, he said, "I do not want to talk much about all this. She is targeting me. The matter is sub judice as it is in court. You can ask the entire building and our staff that who abuses. I have all the evidence (of paying maintenance and school fees). Truth will come out. I have been working in the industry for 35 years, have acted in over 250 films here in 20 films abroad but no complaint of abuse or beating or misbehavior or anything negative has ever come out against me. It shows she is lying."
It is said that while going through this turmoil with Nandita, Om once again came close to his ex-wife Seema, leaving his son, Ishaan, in a deep state of conflict.
In February last year, the couple decided to opt for a judicial separation instead of a divorce.
In a PTI interview dated February 9, 2016, Om was quoted as saying, "The court order came last week. It was a clash of our sensibilities. This happens with people so there is nothing unusual in it. Nandita and I are supposed to talk only regarding Ishaan's education and welfare."
An India Today story claims that Om wanted to remarry his first wife, Seema, but because he wasn't legally divorced, he couldn't go ahead with that plan. Despite his separation, Om remained in touch with his son Ishaan, who he's believed to have written long letters for.
The actor was found dead early morning today.
In pictures published on the ABP website, Nandita Puri is seen crying inconsolably at the Cooper Hospital, where Om was rushed after the cardiac arrest. Seema Kapoor hasn't been photographed/quoted as yet.
Two broken marriages, a case of domestic abuse, a son caught in between, Om Puri was truly an unlikely hero.
ANKUR PATHAK
 Courtesy: Huffingtonpost.in