Oh My Kadavule Success Meet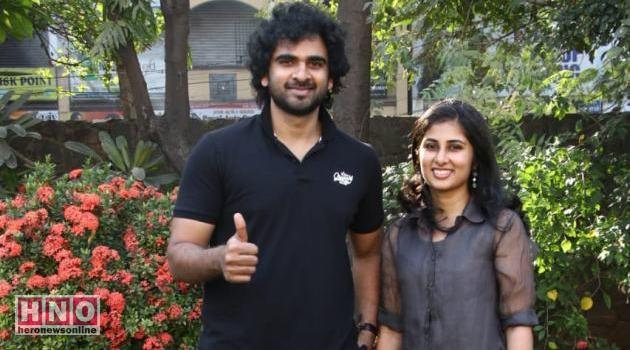 Ashok Selvan-Ritika Singh starrer 'Oh My Kadavule' that had hit screens last week has witnessed a huge success in box office run. With the film having a strong weekdays/ends ahead, the crew was there to thank the press, media and audiences for making it a huge success.
Director Ashwath Marimuthu said, "I wholeheartedly thank everyone, who appreciated the film. At this hour, I want to bow down to each and everyone in the team, who worked hard in making my dream come true."
Director Sri Ganesh, 8 Thottakkal fame said, "This is my close friend's movie and his 7 long journey of crafting this script has been very well known to me. Both Ashok and Ashwath have accomplished a long run dream together now. I used to hear a lot from Ashwath about the cooperation of Ritika Singh and Vani Bhojan for this movie. It's nice to see that everyone in the theatres are enjoying it."
Director Ram Kumar, Ratsasan fame said, "Soon after the success of 'Ratsasan', I was curiously waiting to see what would be the next outing of Dilli Babu sir and I am completely happy to see the successful project like Oh My Kadavule."
Producer Chandra Prakash Jain said, "I happened to watch the movie last night and totally amazed with the way, it has been made. I want to congratulate each and everyone in the team for making a beautiful movie. It's yet another feather to the cap of Dilli Babu, who has been consistently churning out successful movies."
Sakthivelan B, Sakthi Film Factory said, "I have already got a strong affirmation from the distributors that the film will have a steady run for next 4-5 weeks. I will definitely host a success meet for this film on my behalf on that occasion. This film has now become a trendsetter by bringing in a new panache and more movies will be made based on this genre from now onwards."
Actor Ashok Selvan said, "Just a 'Thanks' note cannot make up for the great support rendered by everyone here. We worked a lot blindly and gave the best. When we wanted to make a film like this ,we didn't have enough money and it is only because of Dilli Babu sir, our dreams have come true now. I take this opportunity to thank Vijay Sethupathi anna for making OMK, a picture perfect movie."
Producer Abhinaya Selvam, Happy High Pictures said, "Ashwath worked on 10 versions of screenplay for this film and his hard work has paid him off well now. The film has impacted many emotionally letting them connect with. We were awestricken with the voice messages that we received from many places stating that the film has influenced them in their personal space."
Actor Shah Raa said, "I thank God for the film's success. My father would never respect my values for a very long time. He hugged and appreciated me after watching the film. I was continually typecast in humour roles and OMK has broke that pattern offering me a substantial role."
Actress Vani Bhojan said, "It's a dream come true for all of us in the team. I was emotionally inclined on hearing  news that a couple that broke up got patched up after watching this movie. Such moments are priceless and I am indulged in that elations."
Actress Ritika Singh said, "I thank everyone for their honest and positive reviews. This is an important movie in my career.  I am extremely thankful for the whole team for having me as a part of this project."
Producer G Dilli Babu, Axess Film Factory said, "Ashwath and the entire team has done a fabulous job. Oh My Kadavule has become a prestige to our production house and such success motivates and propels me to go furthermore and encourage new talents. Our doors will be always open to the unique contents."
The occasion also had the other technicians, artistes and assistant directors sharing their thanksgiving note during the success meet.