Kabali – A step forward for Rajinikanth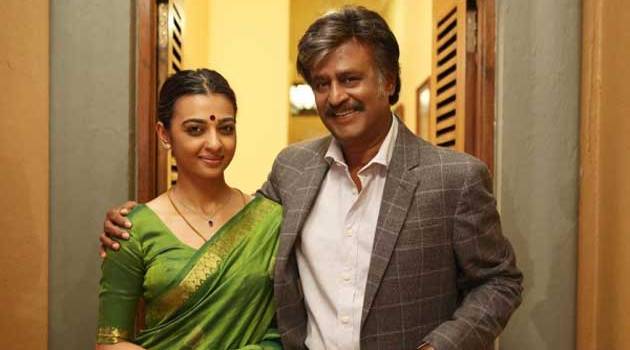 Kabali is my first Rajinikanth movie with the whole family in attendance. As Aaryan and I walked in, I told him that he has a free hand to scream or whistle in the theater when Rajini appears on the screen and he said, "அப்பா, வெளியே அனுப்பிட மாட்டாங்களா?" (Dad, Won't they send us out?) because we have a history of getting sent out from theaters as Aadhirai screams out of excitement (not cry) seeing the big screen.
I replied to him, "நீயே பார்ப்படா" (you will see it yourself) and he witnessed it.
When THE RAJINIKANTH appeared on the screen, the whole theatre went crazy roaring and whistling and Aaryan had a jaw dropping experience and joined the mob. This will be one of my best and close-to-the-heart father-son moments and this frenzy cry, whistling and cheering is possible in a theatre in America, because it is The One and Only Rajinikanth!
I watched Kochadaiiyaan, walked out of the theatre and straight called it a dud.
Frustrated with Lingaa, I wrote a one liner comment as a review, "அப்பாடா, படம் முடிஞ்சுடுச்சு" (Thank heavens, the movie is over) because I couldn't sit through the connect-less scenes that played out on the screen.
But I will curse myself if I do the same negative commenting for Kabali. It's not at all a dud!
The best part of Kabali is that Rajinikanth plays his age in real for 95% of the movie, the complaint he has heeded to, gotten real and performed on screen. No SPB-sung intro song, no gimmicks, no catchy punch lines, no duets. This movie has some serious work gone in beginning with choosing a really good plot. The costume designing, camera work and audio engineering (not songs) is brilliant.
This is the first movie that talks about the plight of Tamil diaspora, who made a foreign land their home for generations. This movie only deserves to be made in Tamil and I'm not sure how they dubbed and demonstrated the plot even in other languages. The politically-cognizant folks will stay away from calling this movie a disaster, because they definitely will realize that doing so is a crime they are committing, as for the first time, a total commercial entertainer like Rajinikanth has taken it on him to speak the politics and plight that has never been largely spoken in popular media. Kabali commercially opens the floodgate for many movies to come on the lines daringly describing the challenges of Indian diasporas abroad and Rajinikanth must be first appreciated to have done what has been unimaginable so far (all Indian movies so far have only pictured the brighter side of Indians or of people of Indian heritage abroad in a big way), without caring for his image or interrupting the script. The famous statement that Rajinikanth doesn't poke his nose in the Director's or Scriptwriter's job is quite evident from this.
I have been to Malaysia for a weeklong honeymoon vacation some years ago and I happened to have a lengthy conversation with my tour guide, a Tamil septuagenarian named Mr.Thuraisingham. He told me in detail about the second class treatment and political suppression the Tamil diaspora face there, how they cheat on themselves by self-inflicted divisions and how the current generation of Tamil youth are exploited by Chinese and Malays, tactically, to not let them stick to their roots and revolt the slimy oppression. He had huge praise for Singapore and Dr.Lee Kuan Yew. At the same time, he had a much bigger complaints that Tamilnadu doesn't play it like a capital state for Tamils living worldwide (he quoted how Israel is for Jews) in spite of having all that it requires to be one, and minced no words when it came to critically reviewing the leadership in TN politics who have been in the throne for 35 years. Kabali talks about all that in various instances, in layers.
In spite of all those portrayals, this movie lacks the gripping screenplay, editing and travel it requires. While I appreciate Pa.Ranjith for the dialogues and the plot, I actually have to say this upfront about his star-cast, canning and screenplay. Pa Ranjith must stop running his movies like a drama troupe and stop carrying the same 15 faces for all the movies he is making. None of them fit the bill except for Dhanshika and Dinesh. Boy, it's a Rajinikanth movie and we better know that we equally need heavy weight performances from others. This star cast has no place in a Rajinikanth movie where budget is never a constraint. The compulsions to make better dialogues and story sequences come only when you have good established performers and Kabali lost it right from the first step, the star cast itself.
Kabali is high on emotional content, family bonding and political reasoning. But the package drifts down from delivering because of the presentation. It neither is a trademark Rajinikanth movie or a trademark Pa.Ranjith movie. It would have been fantastic if it stuck to the basics with:
1. Star cast and editing for a Rajinikanth movie.
2. Dialogues and script for a Pa.Ranjith movie.
The chaos is because of the way all these got badly blended.
As much as I liked the marketing and branding of the movie, I hated the way in which the Box Office opening was orchestrated for Kabali. More than half of the hardcore Rajinikanth fans I know didn't see the movie on day one. That is a bad repute earned right there by the producer for Brand Rajinikanth.
Pa.Ranjith has shown scare and hesitation in going all in for this one and handling a tall figure like Rajinikanth. That's quite understandable. When some attempts fail early, it closes the door for the other deserving ones.
Young directors handling well established actors still looks like a target not achieved in full.
I definitely liked Kabali, in parts. It's a welcome change for Rajinikanth and sadly Pa.Ranjith's thoughts couldn't transform into action.
You may not want to praise Kabali sky high after watching it. But there is really nothing to abuse or troll about it. That, to me is a step forward for Brand Rajinikanth.
The long and much awaited Rajinikanth 2.0 is here already and I'm not sure if you have noticed it in Kabali!
– Karthik Rangarajan