Revisiting demonetisation: In Chennai's flower market, anger against Modi government is still fresh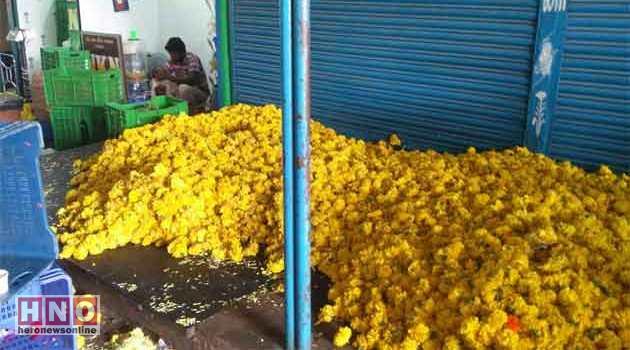 Around noon on September 5, in the Koyambedu flower market in Chennai, two daily wage workers, C Velmurugan and A Selvaraj, stood outside a flower garland shop calling out to potential customers. It was a regular day of business with buyers thronging the market corridors. The workers were looking forward to taking home their daily wage of Rs 500. They said they were still trying hard to make up for the losses in their income on account of demonetisation.
On November 8, Prime Minister Narendra Modi had announced the government's decision to demonetise high-value currency notes as part of its campaign against black money. Overnight, 86% of India's currency had become illegal tender. As cash dried up in the hands of customers, the flower market saw a drastic drop in sales. With vendors facing losses for a stretch of five months, the daily wages of workers had plummeted to just Rs 200.
Selvaraj still bristles at the memory of the months of hardship. "Nothing has come out of demonetisation," said the 35-year-old worker. He had not heard about an August 30 report by the Reserve Bank of India that said 99% of the demonetised currency notes had returned to banks by June 30, indicating the move had failed to dent black money reserves. But intuitively he felt the government's decision had little benefit.
"They don't have to kill people who live in poverty like us to catch people holding black money," he said. "They should directly target those places where black money is being held."
Velmurugan was even more indignant. For five months, he could barely manage enough money to send his children to school. "We would eat hardly twice a day, getting rice from the ration shop at Re 1," he said. "We don't need such policies, we can manage by ourselves."
An unexpected fallout of demonetisation was that even the poor in Tamil Nadu had become familiar with the name of the prime minister. Struggling to make a living, and immersed in the Dravidian politics of the state, they ordinarily had little interest in the Central government in distant New Delhi. But after their hard-earned savings in cash had turned to wastepaper overnight, they suddenly woke up to its power. Narendra Modi's name had become synonymous with demonetisation.
Unsurprisingly then, their anger is directed at him. "The Modi aatchi[government] is making the poor suffer," said Selvaraj. "Nobody will vote for them."
Wilting flowers
The Koyambedu market is one of the largest wholesale perishable goods markets in Asia, with over 3,000 licensed shops selling fruits, vegetables and flowers. Over 10,000 traders operate in the market – around three or four working out of a single shop. As many as 10,000 workers were employed on a daily basis, said V Govindaraj, general secretary of the Tamil Nadu Flower Vegetable and Fruit Traders Welfare Association. The flower market alone has more than 500 shops, selling up to Rs 10 crores worth of flowers each month, he added.
Scroll.in had visited the flower market one week after demonetisation had been announced, and once again a month later. During this period, flower-sellers found it difficult to provide change for high-denomination notes such as the new Rs 2,000 note. As they lost customers, prices of flowers and garlands in some shops fell by up to 60%. Owners of flower shops could neither pay their workers nor the farmers who supplied them with truckloads of flowers every day.
The flower-selling business is a fast-paced one dealing with perishable items. Low sales on a particular day meant tonnes of flowers went waste. In the first week after demonetisation was announced, nearly 360 tonnes of wilted flowers – roses, lilies, asters and jasmine, among them – were dumped in the Koyambedu market, reported The Times of India.
Not an equaliser
Ten months after the market saw a severe slump, the flower traders said business was back to normal. But it had been a slow recovery. "Our sales have picked up only over the past five months," said S Ravichandran, the owner of a garland shop whom this reporter had met on both occasions.
But while labourers like Velmurugan and Selvaraj were vociferous in denouncing the scheme as a failure, the flower shop owners seemed to believe that demonetisation was a good policy move by the Modi government.
MRA Aalappan, a middle-aged flower vendor, faced losses amounting to more than Rs 1 lakh in the four months after demonetisation. From Rs 30,000, he said his shop's monthly profits crashed to Rs 5,000. Despite that, Aalappan vociferously supported the move in December. He claimed it had affected the rich and the poor equally. "Modi's scheme is a super scheme," he had said. "It is a very good scheme to bring out black money. Everybody is suffering, so it is okay."
Months later, Aalappan continues to hold a positive view of demonetisation, although he no longer thinks it was an equaliser. "I still feel it was a good move, since it was aimed at eliminating corruption," he said. "But small-scale businessmen like us were the worst-affected. The rich managed to get their black money exchanged for white money. It was the common man who was affected."
Even the vendors were not aware that 99% of the notes had made their way back to the banks. On August 31, the morning after the Reserve Bank report was released, there was no mention of it on the front pages ofDinamalar, Dinathanthi and Dinakaran, three leading Tamil newspapers.
Instead, Ravichandran, a shop owner, said he had read in the papers that black money worth crores had been seized by the government. "Modi's scheme was a good scheme," he said. "But it could have been done without affecting people like us." Ravichandran still has to repay a loan of Rs 2 lakhs that he took by pawning his jewellery with a local moneylender, to tide over the financial crisis that demonetisation caused him. He was paying around Rs 5,000 to Rs 10,000 every month. "It will take us at least a year to get our jewels back," he said.
Political prospects
Months later, the daily-wage workers at the flower market were certain that the Bharatiya Janata Party would not make any political gains in Tamil Nadu. "Here, people know only AIADMK or DMK," said Selvaraj, referring to the two main political parties in Tamil Nadu, the All India Anna Dravida Munnetra Kazhagam and the Dravida Munnetra Kazhagam.
Even the flower shop owners seemed uncertain about the BJP's popularity in Tamil Nadu. When asked whether he would vote for a BJP candidate during the next state Assembly elections, given that he perceived demonetisation to be a success, Ravichandran seemed undecided. "I don't know much about the local BJP candidates. I do not like anyone from the AIADMK or the DMK either. I think I will choose NOTA," he said, referring to the 'None Of The Above' option on the voting machine that allows voters to reject all candidates.
However, at the Centre, Ravichandran wanted the Modi government to stay for one more term. "He should be given more time to implement his policies, only then we will see real changes," he said.
When asked whether demonetisation had been worth the months of hardship he and the other small-scale businessmen had to undergo, Ravichandran simply shrugged and said it was all in the past and they had to move on. "It was a tough time that everyone had to face," he said. "When you suffer from a stomach pain, you go to the hospital, take time to get better and then forget about it."
Courtesy: Scroll.in / VINITA GOVINDARAJAN