In the meanwhile, this is what the soldiers at the border actually worry about!
India's government, already grappling with a furor over a rupee note ban that invalidated 86 percent of the currency in circulation, is under fire over its treatment of the country's soldiers.
At stake is whether retired personnel receive the same pension based on rank and years of service — currently veterans can find themselves receiving less simply because they retired before a pay revision took place. The government of Prime Minister Narendra Modi agreed in April to standardize pensions but has yet to resolve the issue.
Opposition parties criticized Modi after the death this month in New Delhi of a veteran from the voluntary reserve force. RK Grewal's son, Pradeep, told India Today his father called him just before he died to say he was forced to take his life because he had not received the pension promised to him.
Heading towards key state polls early next year, Modi now needs to placate the military on top of hosing down the uproar after his currency overhaul sparked chaos in a nation where 98 percent of all consumer payments are made in cash. Addressing the concerns of soldiers quickly is important given the size of the army: 1.4 million serving personnel and 2.06 million veterans.
The states of Uttar Pradesh, Punjab, Uttarakhand, Goa and Manipur are home to close to 800,000 veterans' families, making the resolution of the "One Rank, One Pension" issue vital for the ruling Bharatiya Janata Party's chances in those elections.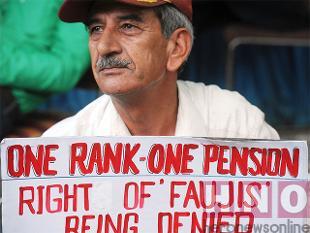 "Veterans have in the past, particularly during the 2014 parliamentary elections, influenced the outcome in favor of the ruling BJP in around 150 constituencies," said Major General Satbir Singh of the Indian Ex-Servicemen Movement. "Veterans form a massive voter base in states like Uttar Pradesh, Uttarakhand and Punjab and they will this time impact the results of nearly half the number of seats in these states."
Prolonged Dispute
For the last two years, veterans have rallied in Delhi over the issue, which has festered since 1973 when the rules regarding pensions for retired personnel were changed, resulting in lower payouts. Successive governments pledged to implement "One Rank, One Pension" for veterans but did not follow through.
Delhi Chief Minister Arvind Kejriwal, from the opposition Aam Aadmi Party, was detained under preventive arrest laws for a day after he attempted to visit the dead veteran's family. Calls to Kejriwal's media adviser were not returned.
In April, Modi's government said there were anomalies in the implementation of the new pension for retired personnel and set up a judicial committee to investigate.
The committee, headed by a retired chief justice of the high court, submitted its report to Defence Minister Manohar Parrikar on Oct. 26. It has not been made public.
Parrikar and Ministry of Defence spokesperson Nitin Wakankar did not respond to requests for comment. Last week, Parrikar told parliament 1.3 million defense and family pensioners had yet to receive equal benefits.
Amid heightened tensions between India and its nuclear-armed neighbor Pakistan, a dispute with the country's military is something Modi cannot afford, analysts said.
A separate ministry order that would create disparity in rank between civilian and military officers was "very ill-timed," said retired Air Vice Marshal Manmohan Bahadur VM, a distinguished fellow at the New Delhi-based Centre for Air Power Studies.
Tensions between India and Pakistan, who have fought three wars since 1947, have risen since a Sept. 18 assault on an Indian army camp in Kashmir that India blamed on Pakistan, in which 18 Indian soldiers were killed. Pakistan denied any involvement in the attack. Nine days later India announced it had struck at terrorist camps across the border in Pakistan in the biggest military escalation since a standoff 17 years ago.
"The situation across the Line of Control will not die down — it is the new normal," Bahadur said. "So, while that carries on, Ministry of Defence reforms and other administrative issues cannot be swept away."
Financial Cost
The financial implications of meeting "One Rank, One Pension" would be 109.3 billion rupees ($1.6 billion) for one-time arrears paid up in the last two fiscal years, and another 74.9 billion rupees annually, according to the ministry.
Last month, officials clarified details of the disability pension being paid to military pensioners. The government has established separate committees to deal with each dispute.
Now that the panel has submitted its report on pension anomalies the issue will be resolved in a matter of months, according to a ministry official who asked not to be identified given the sensitivity of the information.
 But it's not just retired personnel who are disgruntled with Modi, who rode to power in 2014 promising to protect the military and improve pay and pensions. Serving officers are unhappy with pay structures implemented earlier this year. The government has promised to rectify those anomalies.
And protesting veterans say their issues are far from being resolved.
"What has been implemented by the government so far was nowhere near the One-Rank-One -Pension definition agreed upon on four previous occasions over the last decade," Singh said. "This is nothing short of betrayal of the trust reposed by them in the Modi government."