100 years of Justice Party, a movement which defined Tamil Nadu politics
On this day, a hundred years ago, a movement was born that would singularly define the politics of Tamil Nadu. Even as India was fighting British domination hundred years ago, there was another India fighting for liberation from perhaps an equally vicious hegemony within. It was fighting the humiliation of not being allowed entry into public spaces including buses and hotels. It was fighting for its rightful space in administrative services and other job opportunities. It was fighting to find its voice in a political climate dominated by Brahmins. The opposition to Brahmin hegemony perhaps became more organized as a movement and later a political party for the first time in Tamil Nadu, and it continues to dominate the Tamil social and political space like no other.
On November 20, 1916, around 30 prominent non-Brahmin leaders including Dr Natesa Mudaliyar, Sir PT Theyagaraya Chetty, TM Nair and a woman Alamelu Mangai Thayarammal came together to form South Indian Liberation Federation (SILF) which would popularly be called as Justice Party after the 'Justice' newspaper it launched to propagate the ideals of the movement.
The meeting took place in the historic Victoria public hall.  We now remember those leaders as a street (Nair street), a park (Natesan park) and an neighbourhood (T Nagar) in Chennai.
Periyar was elected as the leader of the Justice party in 1938. In 1944, Justice Party along with Self Respect movement would be rechristened as Dravidar Kazhagam and the rest, as the cliché goes, is history. (When its name was being changed to Dravidar Kazhagam in 1944, Periyar sought to explain how Justice party was never named so and the term Indian in SILF was not acceptable).
But SILF was not the first non-Brahmin association. The simmering emotions against Brahminical hegemony and the need to take it heads on found its first expression in 1909 when two young lawyers, P Subramaniam and M Purushothama Naidu, formed The Madras Non-Brahmin Association. The association failed to sustain due to various reasons, but the first seeds for Justice party were sown with it. In 1912, the Madras United League was formed with Natesa Mudaliyar as its secretary. It later began to be called as Madras Dravidian association and one of its biggest achievements was to set up hostels for non-Brahmin students.
Theyagaraya Chetty and TM Nair realized the need to make the non-Brahmin movement political when they suffered defeats at the hands of the Brahmin candidates in the imperial legislative council and local council elections respectively. Despite being rivals politically, Theyagaraya Chetty and Nair came together to launch SILF, thanks to efforts taken by Natesa Mudaliyar.
Theyagaraya Chetty was elected as the president of the Justice party. It was a tumultuous period no doubt. The year also saw the birth of Separate Tamil movement. A year later, a few non-Brahmin Congress leaders would come together to launch Madras Presidency Association to counter the rise of Justice party. Undeterred, Justice Party released its non-Brahmin manifesto in December 1916. The manifesto became an important document that would shape the rise of Dravidian movement later. But at the time of its release, it received widespread criticism and many leaders felt that Justice party would die a natural death. History had other plans though.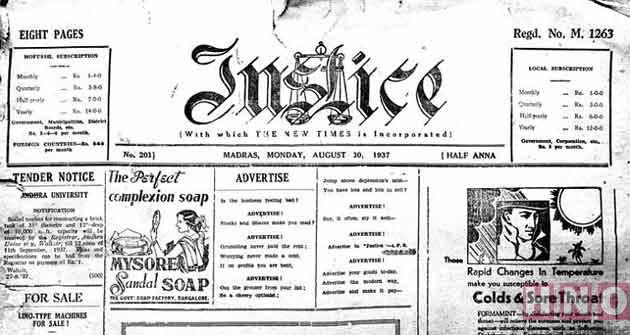 In 1920, the party achieved success in the elections and formed government. Subburayalu Reddiar was elected the Chief Minister or Premier of Madras Presidency.
Tamil Nadu's legacy of social justice owes its existence to the formative years of Justice Party in power. The party introduced what is called as communal G.O to legislate reservations. Incidentally, Periyar quit the Congress after the party failed to pass the communal G.O. Women were given voting rights and noon-meal scheme was introduced when Justice Party was in power.
The party also played a vital role in allowing women to contest elections paving way for Dr. Muthulakshmi Reddy to become the first woman legislator in India. The pioneering efforts of Dr. Muthulakshmi Reddy saw the abolition of Devadasi system when the Justice party was in power.
When Justice party lost power in 1936, veteran Congress leader Satyamurti called it its 'burial'. In 1967, when the DMK came to power, Chief Minister Anna Durai would have his sweet revenge at Satyamurti. He said Justice Party was not buried but sown to sprout back in 1967.
-Kavitha Muralidharan
Courtesy: thenewsminute.com, 20.11.2016